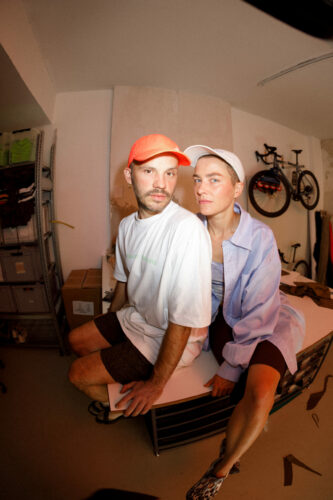 As long as we are a couple, we already work together. And the other way round. And wear the same clothes.
It all started when a production partner and friend from Poland asked us what he should do with those three 50-meter rolls of Japanese jersey that were left over after the last customer order.
So we asked ourselves why we don't actually use our network, our cuts, our own style and our knowledge of all these precious "leftovers" to make products ourselves?
That's how EDO was born. First a working title from our initials, the name soon became a story: chance would have it that the salvaged Japanese fabrics of the first collection reflected the beautiful colours and mood of a haiku Elisa was reading at the time in the Book of Tea by Kakuzō Okakura:
A group of summer trees,
a strip of sea,
a pale evening moon.
Then we learned about the era named after the former name of the city of Tokyo – the longest period of peace in Japanese history. A period commonly associated with the flourishing of art and culture, horticulture, crafts, etc.
It dawned on us as students that things were going wrong in the fashion industry. Proportionally to growing knowledge and experience, this suspicion often gives way to full-blown horror. So we deal with it all the more and embark on a transparent search for better solutions.
EDOGOODS. Do better.