EDO EDITION 6
08 2020
big steps towards circularity:
our first compostable and carbon neutral collection
first collaboration with Hannes Meier
– a campaign and fanzine with analogue images of the people that inspire us on a daily basis with their work and beautiful energy
"Everything you make returns to earth as either food or poison."
We further developed our signature patterns with regards to reducing off-cuts and working steps to the minimum while increasing comfort, unisex fit and style to the max.
Made on demand,
designed for longevity and circularity,
stitched locally by skilled craftspeople,
using carbon neutral organic fabrics.
04 2020
the start of a pandemic and a long month dedicated to sewing more than 120 masks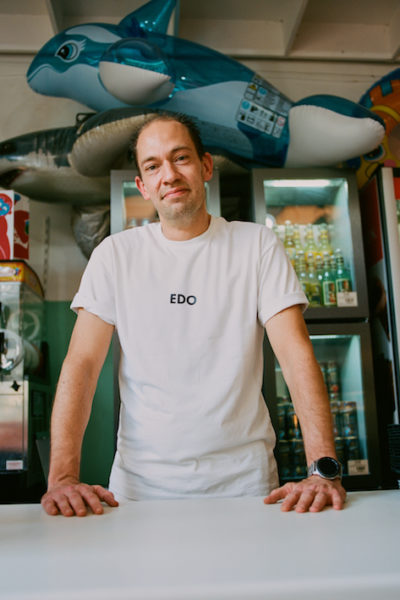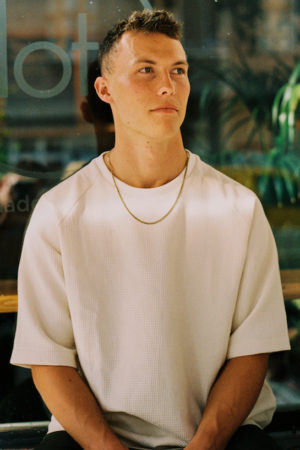 locals.
Through our daily routines we develop unique patterns of moving through a city, rhythms of activities or geeky habits. They are often connected to people who happen to cross our paths, sometimes every day.These are the very subtle moments when you feel safe and at home in your neighbourhood.
In the course of building up the EDOgoods brand, we have made many moves from workplaces, shops and even private homes. Somehow this always happened within a small radius of 3-4 km, between Kreuzberg and Neukölln. So some of these patterns had five or more years to grow.
There's this good looking guy at dots café, who's smile turns every day into a better one. Who knows what you want to order before you do. And it's the friendly lady at the traditional Ladewig bakery, with cakes that you send back 20-30 years to your granny's kitchen table. Who can resist those sweet "Berliners with plums"?! The young man at Späti International, who is quietly cleaning at midnight and smiling deep in thought when you enter to get your favourite beer. The charismatic team of Beuster Bar, sitting in front of the restaurant in silence, smoking. Just before it gets crowded again, as every night. And there's the incredibly helpful Nikita from the Paper Twins copy shop, who can attend five customers at once and still be friendly. Matze from Prinzenbad Kiosk, a true legend whose radiant energy and CUISINE! is perhaps the only reason why we go swimming…
In time, strangers become familiar faces and sometimes even friends. Through the daily routines we choose, we shape our world and create connections that will shape the future.
In times of a global pandemic we realize even stronger how important local communities are. How fundamental it is for your wellbeing, health and safety. Each positive action has a positive impact on others. Each € spent on a local business instead of global companies is a well spent one.
This is dedicated to the locals, to our neighbours, to the small business owners, to craftspeople who are the heart and souls of our cities. Now during corona we feel it even more that we need personal contact and local networks to create a better world together.